VHA 2020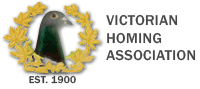 To all members,
I hope you are keeping well in these difficult times.
Just wish to confirm that we believe we can all commence tossing now that restrictions have lightened up slightly.
Please see attached note from Charles Hider and note from Jim Davis (VRPU) below, regarding tossing commencement.
Due to restrictions there will be no June delegates meeting. Hopefully come June 1st review of restrictions, by the government, we will be able to plan to proceed with our race season as scheduled.
The executive have agreed that for 2020 we will continue with the standard up front fee system, and once we get back to meetings we can debate any changes going forward to 2021.
---
Allowing for no major increase in transport costs( we are delaying firming up this quote till we know start date etc. for the season) the executive have agreed to set the bird rate at $2 – the same as last year. We should be able to cover any shortfall (which we do expect) with the revenue generated from the rental.
Clubs within each centre MUST think through centralising race entries through one person/secretary for that centre. This will avoid multiple secretaries taking up "numbers" of allowed gatherers, plus enable easier collection of fees from the VHA secretary (me).
---
The executive (including R & F committee) are hopeful of meeting early June and we will endeavour to draw up "how to basket" instructions. Many issues will need to be covered and a lot will depend on "how many" members we can have in the rooms at one time, which will be directed by the government.
Members should be aware that the executive have been active in contacting relevant bodies to enable us to conduct our training and racing in 2020, and will continue to do so.
Hopefully we will get a full season in.
---
Just a quick update.
After the Premier's revised restrictions advised 11th May 2020 and in place from the 13th May 2020 and Charles Hider's letter advising that the interpretation of the new restrictions allowed us to toss, we were still not sure that this was legally the case. In the absence of any official response from a Government body we followed up the Victorian Police for their interpretation of the current restrictions with regard to tossing given they are the body that issue any fines for breaches of the restrictions. We are pleased to advise that we have had confirmation from Special Unit set up by Victoria Police for enforcement of the COVID -19 restrictions advising "From what I have been given below from my supervisors I would say practicing or training the pigeons would not be a breach of COVID restrictions".
The advise is based on:
I think it is now safe to say we can commence our tossing in preparation for the 2020 season.
Regards
Jim Davis
On behalf of the Melbourne Metropolitan Federations